Enormis Mobile Specialties in Erie, Pennsylvania, is a specialist in remote starters, and we carry a wide selection to meet the needs of all our clients. The Mini 2-Way.3 v3 is a great solution for people looking for longer range coupled with an extremely compact design.
Tiny Remote Control Is Perfect For People Looking To Eliminate Clutter
Are you the kind of person who thinks there are already too many things hooked to your keys? Then this system is perfect for you. The remote is extremely compact and uses a simple one-button design that is easy to use.  Check out the Mini 2-Way.3 v3 in action:

Longer Range Opens Up Many New Opportunities To Enjoy System
In our experience, once you walk out to a warm vehicle one time, you never want to be cold again. This model gives you range of up to 3/10 of a mile away, opening you up to many new opportunities to use the remote – not just at home, but when out to dinner or at work.
Two-Way Design Lets You Know for Sure That Engine Has Started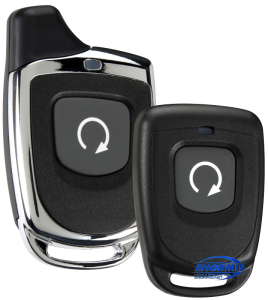 Now that you are considering a longer-range remote starter, many times you won't be able to look at it and see if your car is running. The Mini 2-Way.3 v3 system give you confirmation back to the remote that your engine is running. This gives you the confidence of knowing your vehicle will be nice and toasty when you get in it.
Additional Features Of The Mini 2-Way.3 v3
With this model, you get a two-way remote control and a one-way remote control.
This system will unlock your doors on those cars that shut down the factory key fob when the engine is running (great for Honda, Toyota and other vehicle makes). To unlock the vehicle's doors, you just press and hold the button for 3 seconds anytime the vehicle is remote started. Please call us for vehicle compatibility.
You can activate the automatic timer to start your vehicle from in your house during hot days, blizzards and ice storms.
No cut wiring on an Enormis install – other shops claim it, Enormis guarantees it.
Our MECP-certified technicians mean you are getting the best-trained installers working on your car, truck or SUV.
Come See Us Today
We invite you to stop by Enormis Mobile Specialties, the remote starter specialists in Erie, and see for yourself why more and more people choose us every year. Our highly trained staff will work with you to find the best solution for your needs from our wide selection of automatic starters. You can also fill out our remote starter quote form by clicking HERE.
To see all of our remote start models, click HERE.