Check out what other customers just like you are saying about us below!  Don't forget to click on the links at the bottom of the page to read more reviews (especially the ones Yelp decided to hide for some reason!) and while you're at it, feel free to leave your own review!
---
Tell Us Your Story
I set up an appointment for a surprise upgrade on my girlfriend's radio and a key fob and I couldn't have been happier with the results. Everything was done fast, correct, and their service went above and beyond my expectations going as far as to preset popular radio stations for her and set the equalizer to what they thought sounded good. We also got suggestions as to where to sell her old one and an appropriate price range for it - all for just the courtesy of doing so. I recommend this place to the highest degree for anyone looking for their type of service.
Jake Grenz
100% satisfaction
I was traveling from New York City to Erie every weekend to see my fiance when my car ( 2001 Toyota 4 Runner Ltd) developed a problem with the alarm system. The alarm would go off whenever it felt like it. Horn blasting, lights flashing, an embarrassment to say the least. I saw an advertisement on TV for Enormis and figured what have I got to lose. Well I feel I really won! They diagnosed the problem, rectified it and sent me on my merry way. A very happy customer! Since then they have installed additional driving lights and back up lights on my car and made other recommendations. They are extremely professional, courteous and customer friendly. I wouldn't go anywhere else for my auto electric. I highly recommend Enormis to everyone.
Fred Solomon
Alarm Problems 2001 Toyota 4 Runner
I lost the screws to my remote while changing batteries. The remote fell out of the metal holder for key rings, so i went back to enormis to see if they sold or had some crews that would fit, they did not. to remedy my situation they pulled a new remote from the shelf and replaced the electronics with mine, and didnt charge me a dime. anytime i have been in enormis audio the customer service is always fantastic. to repair/replace my remote at no charge is unbelievable. Thank You Enormis.
Shawn
customer service
They put up with my BS and still treated me will respect. Thanks guys.
Dennis
Exceptional Service!!!Thank You Enormis!!! You saved the day!!! I called late in the day in Dec '16, looking for information on installing a remote start in my '17 Explorer - after another place had my vehicle all day and couldn't program one for my new ride. I was skeptical when you said you could install it & was estatic that you could get me in that same day!!! I gave you a shot and you pulled through!!!! I knew I should've gone with you first. Lesson learned!!
Nancy
Remote start
Excellent service, very personable, even thanked me for driving up from Meadville. Found the electrical problem on my 2007 Explorer and fixed it in very little time. Special thanks to Tony and Chris, you all did a great job at a reasonable price.
Larry A.
Great products, location and support staff. I recently purchased some speakers, amps and a new deck for my vehicle. I did the installation myself and not being a professional I made a few mistakes. Tony was very patient and gave me the support needed to make my new installation a success. My ears are thanking me every day! I have and will continue to refer my associates to Enormis for an A+++++ experience.
Jesse Thornton
Post Sale Installation Support / Post Sale Installation Support
I live south of I-80 in Butler county Pa. It was well worth the drive to Enormis and I will go there in the future for anything they can help me with. Their online service was prompt and helpful. They set up an appointment that was convenient for me and I was in and out in less than 20 mins. They are professional and knowledgeable and very friendly. If you have any mobile electronics needs I would highly recommend making the drive and allowing them to help you. Their prices were way below dealer costs on the key and fob I needed for my Ram 1500. Thanks to the people at Enormis!!!
Klimek
Peter / Awesome
Worked with Doug. I bought a used Motor Home and did not like the sound. Took it to Enormis for Sirius, Navigation, Blue Tooth. Doug found that on speaker was about to blow out and suggested some better speakers. Dropped it off and the next day everything was ready. They also found that the DVD Surround Sound in the Motor Home was not hooked up correctly and fixed that while they were at it. Can't say enough about how well everything was handled. Previously they had installed two remote starters for me. This job was amazing. Thank you.
Kenneth Dundon
Motor Home Radio, Navigation, Blue Tooth
My wife has wanted a remote car starter for years so for Christmas this year we decided to get a starter for both cars. There are a few places in Erie for this but we had heard of Enormis so we decided to give them a try. We made an appointment for just after Christmas but we got dumped on with snow. I called Enormis to cancel our appointment and talked to Tony Horton. He was very friendly and helpful instead of canceling he rescheduled us for January. It was a hectic New Year but Tony kept in touch with us to make sure our appointment went smoothly. We dropped off our cars and Tony got things ready right away. He made sure we got the starter that worked best for us and made us comfortable in the waiting area. The work got done sooner then we expected and Tony spent extra time with us since these were our first car starters he even went out in the rain and sleet to show us all the details. Since that day we have enjoyed and appreciated the starters as it has been very cold and they have worked great. We would recommend Enormis to anyone looking for quality electrical car work! Ed & Linda Buetikofer
Ed Buetikofer
I called this morning with a question about the DVD player (or lack of) in our van we just purchased. Louis called me back promptly and walked me through the steps on how to locate it!! It was like he pulled out a magic wand!lol. He is great! I will definitely be seeing him in the future!☆☆☆☆
Brenda
Whitaker / Great customer service! !
Since it's a 300-mile round trip to Enormis, who I've worked with before, I boxed up and mailed my 2004 Impala cluster to Enormis for a rebuild. I got it back within 5 days, it works perfectly and the final cost was less than they originally quoted... which was especially satisfying since Enormis was the only place that offered to do a rebuild. All the local shops wanted to do was replace the unit... at 3 times the money!! I will not use anyone else for auto electrical system work... period.
Tom Hammond
Mail-in cluster fix
Exceptional service, top notch products, excellent customer service individuals working there. Very happy with our new remote starter.
Dennis
Remote Starter
I live in Saranac Lake, NY., one of the coldest spots in the nation. The temperatures this past weekend, Winter Carnival Weekend, even now, Monday, have been in the double digits BELOW zero, getting to -30 overnight with wind chills at -50 degrees day and night. Can you believe it? My CAR STARTED. Thank you ever so much to the Enormis staff who installed my remote car starter when I was visiting relatives in Erie several years ago. I have an 18 year old Volvo wagon and these guys made sure I didn't have to go out in such Extreme temps. My car started without a hitch AND I didn't run it every day. Too cold to even go out. The ENORMIS "remote car starter" was my angel this weekend. Many thanks to the staff and the Quality of the Products these fellas use. You saved me this weekend. Kudos to Enormis Mobile Specialties.
Corinne Vickey
golden1620@yahoo.com / Remote Car starter.
Had a remote start put in my Hyundai and couldn't be happier! Works as promised, was more affordable than I thought, and you couldn't ask for better service. Website is very informative and very usable. Great company with great products.
Mike Kindle
Happy with my remote start installation
In 2011 my remote start was not working in my wife's minivan after replacing the vehicle's 12-V battery. I stopped in Enormis on a busy Saturday morning. While they did not perform the install, they fixed the issue at no charge and made a passing comment to "come back if you need anything in a few years when you get a new vehicle." I have a long memory and went back to Enormis when we purchased a new 2016 Toyota Sienna Minivan for a remote start and DVD. They did not "push" the most expensive products, nor did they sell equipment obsolete to turn a quick profit. Instead they listened to our requirements and made honest recommendations what would fit our needs. The Enormis team performmed the install in a timely manner. They called a handful of times to ensure everything done matched our expectations. Needless to say the install was superb and looks as though it was done direct at the OEM!!! The entire operation was crisp and clean. However Art Dougan spent extra time to stay with the job from start to finish treating it as though it was a new vehicle for his own family. Enormis offered peace of mind.
Steve
Service & Sales
Great service and exactly what I asked for! Took great care of my brand new car with only 140 miles on it! Thanks!
Andrew
Drone Mobile- remote start
I purchased a 2015 Honda Fit EX five or six weeks ago. I quickly decided that the audio system was lacking the kind of sound I'm used to. I like audio which is full and clear, covering the entire audible range. I've had Enormis do work on other cars over quite a few years, and have always been satisfied. So I stopped by your shop, with the goal of upgrading the speakers. I decided on a package consisting of two Hertz tweeters and midrange speakers. I ended up discussing the options with Ken, who ultimately did the installation. Because the head unit is integrated into many of the car's functions, it didn't appear practical to replace it. Ken did a wonderful job on the installation, and allowed me to hear the differences halfway through the change out. Also, Tony offered advice along the way, particularly after I listened to the finished system. I was disappointed, and Tony suggested I allow the speakers to "break in" for a couple of weeks. I was pretty skeptical, but must admit that after about a week of use, the speakers sounded Very different (much better). However, I decided that per Ken and Tony's comments, that the next step would be installation of a modest amplifier. At my second appointment Ken efficiently completed the installation of the amplifier, and ultimately I have become very satisfied with the results. Satisfaction came after listening to a wide variety of music. It doesn't achieve the very end bass that I would like, but as I'm unwilling to sacrifice the space utility of the Fit, I may have to live with the great midrange and treble. The last part of my Enormis experience came a couple of days later, when I pulled into my parking place at GE in the morning of a terrible storm with very high wind and rain. The head unit blanked out, the music died, and then came back on. I immediately worried that there was some kind of short in the wiring. When I tried to start the car at lunch time, I found the battery to be dead. My first thought was again about a short in the amplifier wiring. I called Enormis and spoke with Mike. Ken was out of the shop, so Mike got ahold of him and called me back, suggesting I check the battery terminals for tightness, and suggested that if necessary Ken could meet me at my car to help resolve the problem. Well, Ken was correct! The negative terminal was absolutely loose. After tightening it the car started right up. However, there was a message displayed on the screen to check the charging system, so I drove over to your shop. Ken quickly (dropping what he was then doing) checked the charging voltage and cleared the fault, and verified that he had disconnected the Positive terminal, not the negative one. The loose terminal must have happened when the battery was installed at the port upon arrival to the US. Your fantastic service has turned around what at first was a disappointing result (after speakers were first replaced) into a testimony to your outstanding service!!! Thanks to all involved at Enormis!! Ron Till
Ron Till
In the end , fantastic Service!
We have been customers for many years, having our first remote starter installed in my wife's 'several years old' van, and later removed and installed when we replaced the van. When I replaced my car, of course I went to Enormis again. Same great people (longevity says a lot) and same great service with the most current products. Many folks I know went 'elsewhere' and have had problems, but no one I know who went to Enormis has had problems or regrets! Call them now!
Kevin & Susan Grant
Kevin & Susan / This is the place!
I have always been envious of my neighbors and co-workers who have remote starters on their vehicles ... well, no more because now I have one of my own! This is really going to help make the Erie winter bearable, especially after last years horrible temps. The guys at Enormis were wonderful, very patient and very professional. If there were more than five stars, I would have rated them much higher!
Lori
Simply the Best!
Lou and Doug! I am so excited to finally have a remote starter and will think of you every time I get into my warm car this winter. Everyone was professional and courteous. Thanks so much!!
Joyce
I am proud to be an ENORMIS customer. First off, Enormis, a huge thank you to you guys for suiting my requests as best you could in the past I absolutely love the new deck, and rear deck speakers i bought from you and had installed by you. Back in December during your sale I bought these products and had them installed in February. I am very pleased with them and I sport my enormis licencse plate ring proudly. Again thank you so very much for your great service in the past, I am proud to be an ENORMIS customer.
Benjamin Jefferys
The Sat Radio is Much more clear and no worries with having to change radio stations. Clear music...no static! I think she will be very happy.
Brad McLaughlin
Lou, It's been about a year now since Enormis has installed a remote start system in my Avalanche. The unit is working great, I have had absolutely no problems with it. I work on the fifth floor of an office building and I can start my truck (across the avenue) from my desk. Great system. I have installed remote starters on my own vehicles in the past. In reference to workmanship, yours is very professionally done, no loose or hanging wires, good, solid connections. Your staff was excellent to work with; no pressure and took their time answering all of my questions. I very much enjoyed working with them. I have recommended your store to anyone that I have talked to regarding auto accessories. Thanks, Brian
Brian P.
Just wanted to thank you again for fixing my car. I'm sure that this was not something you do on a regular basis and I appreciate you taking the time to go out of your way to help.
Cathy
You guys went above and beyond to produce a showroom quality installation. The service was excellent, keeping me informed during The stereo setup with you guys designed for my Pontiac G6 GT turned out awesome. You guys went above and beyond to produce a showroom quality installation. The service was excellent, keeping me informed during the install and following up afterward. When people ask me who did my install I will make sure I refer them to Enormis. I look forward to do bussiness again!! Thanks!!
Chris Smith
When I was younger, I used to take my vehicles to a downtown audio shop to make sure I got the absolute lowest price possible. I quickly learned that the lowest price also came with problems, problematic installs, sometimes shady wiring, and poor customer service. For a year I dealt with a high pitched whine in my audio system that the local downtown shop said they couldn't fix. As I get older, I'm starting the value quality over just always paying the lowest price possible. This lead me to Enormis. Their reputation lead me to them. Their staff was friendly and knowledgeable and the store was professional and clean. None of these qualities were things I'm used to when dealing with car audio. They were very low pressure and instead of selling me what they wanted to, they LISTENED and helped me find what *I* needed and wanted. The end result was an audio/video system in my Acura that not only sounds incredible, but also was installed properly. I suppose I could have taken a chance with the downtown shop again, but I've finally gotten fed up enough with the other guys that it's worth a little more to have things done right the FIRST time.
Daniel O.
I have been working with Lou, Mike & Ethan for over 10 years now. They always go above and beyond to help and satisify. I have had them install TV/DVD players, remote staters, GPS units, Bull bars, PIAA lights and everything in between. I won't trust any one else with my vehicles. I consider Enormis the only 5 star rated mobile specialties company in Erie. Thanks guys for all you've done.
Darcy R.
They use the best supplies and always do such a clean neat job! The best part is they stand behind all their work and equipment. They have even done some custom jobs for us. If you want something done right, see the guys at Enormis! Very Happy Customers, Ed and Bonnie Hannold
Ed & Bonnie H.
Just wanted to thank you guys for a job well done!! The truck drove fantastic. Speedometer is calibrated near perfect with these tires and the shift points are better than they have ever been. Sorry about the oily mess underneath, but I want to keep the truck for a long time and with the winters we have up here, I need the oil undercoat. Tell who ever did the work, I appreciate it and I owe him a beer!! I have been working on this problem all summer. I am a happy man.
Ed Hannold
When I purchased a used vehicle that was equipped with a remote start but had no manual, I called Enormis. They responded immediately to say they would email one to me right away....since I live in Nebraska, that was a relief.....very prompt service and friendly to boot! Thanks Enormis!
Ellen C.
I had remote door locks installed on my personal vehicle at your shop. It is very refreshing to deal with someone who genuinely takes an interest in making sure the customer is satisfied, is courteous and professional!
Grant M. Carson
I just read the article in the Erie Times about Marty Melnichak and his win over leukemia. We are involved in Make-A-Wish and couldn't be prouder of you being apart of making Marty's dream come true. Thank You! We are customers of yours & will continue to be. We appreciate your generosity.
Greg and Marsha Marsh
I have been a customer almost from the beginning. I have purchased all kinds of things for my car ... such as sub-woofers and amps or neon for the interior. The staff at Enormis has always been ready to help me, even if I have a lame question. Enormis also helped me when I bought wheels elsewhere and could not get them mounted on my vehicle. I would recommend Enormis to anyone who is interested in after-market "add-ons", stereo equipment, etc. At Enormis, they always try to do their best to please the customer, at a reasonable price.
Gregor O.
Just a note to thank you for installing the wonderful cd player in my Subaru. It was a pleasure to see your wonderful place – so clean and attractive. It is a gem. The Cd player looks as though it was made for my car !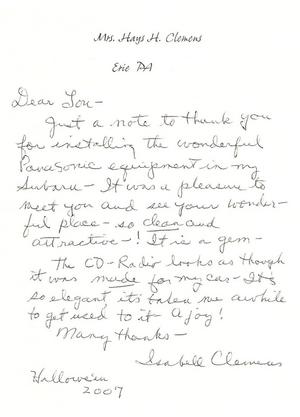 Isabell Clemens
The staff, service and products exceed what you will find anywhere else. So few businesses today are concerned with customer satisfaction. Most say they are, but Enormis delivers it, over and over. They have "upgraded" 3 of my vehicles in the last 7 years, from remote starts to DVD systems, to speakers, and I would go nowhere else, and trust no one else. They have provided better attention to my car & trucks than the dealerships they were purchased from.
J.S.
I've been in Sales and Marketing for over well over 40 years.( US/CAN/MEX) I want tell you how much I enjoyed your response to the problem with the 02 Pontiac..I had my family read your responses as a little workshop on how you handle potential customer problems. Under our current capitalism system, ENORMIS will always be successful and deserves to be.. Thanks again Jack Canzonetta Warren, oh
Jack Canzonetta
If you are thinking of buying a remote start don't be fooled by a low price.I bought one for my wife for about $129 installed.Thought I would save a couple hundred bucks.What a joke! Had it back to the guy a couple times,one remote quit working,he ordered a new one and then couldn't get both of them to program to the starter at the same time.It worked ok for a while,after about 6 mos. it would only work about a third of the time.(now the guy has closed up shop).I got one for my truck from Enormis and what a difference! Works every time! I am now going to replace the one in my wife's car with one from Enormis.What a great group of people they have working there.I have recommended them to my daughter who said she found one for like $150,I told her to spend the extra, go to Enormis and have it done right the first time.You won't regret it.They also took the one out of my old truck before I traded it in and are putting it into my new Escape. Thanks Guys!!
James S
I just wanted to say thank you! I called when my car was in trouble at 5:30pm. You came to help me on your way home and you arranged to have my car towed. By Friday afternoon my car was fixed and ready to roll. Mike was very helpful and clearly explained what was wrong with the car. I am sure that if I had called, anyone else, the car would NOT have been taking care of as quickly as with ENORMIS. Again Thank You! You guys are the Best!!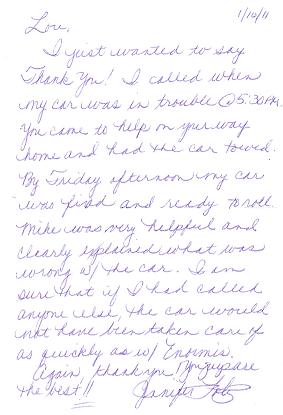 Jennifer F.
My guess is that whenever I need something electronic installed on my cars, I'll be at Enormis. McDonalds does not allow you to bring your own hamburger for them to cook, so I really appreciate you allowing the install of this unit bought elsewhere. Also, the "geeks" at B*** *** told me that they would not install in my car because it has a moonroof. They did not know how they'd do it. To your technicians, it was no big deal. Thanks,
Jim K
I manage a fleet of 48 vehicles. Within the past year, the company decided to outfit our delivery vehicles with GPS systems. We service the railroads so there are thousands of delivery points, all of which required special programming in order to upload them as needed. Louis helped us decide which device would be the best fit for us and designed a program that allows us to interface with the system. Without his personal help and attention, we would not have successfully implemented GPS systems in our vehicles. Louis took it upon himself to become an expert in all workings of the Garmin GPS system. Thanks Louis - great job! I recommend Enormis Mobile Specialties for all mobile needs.
John M.
I just wanted to drop you a note about my install yesterday. I am very impressed with the quality of work that was completed on my project. I am very picky about my trucks and I can say with confidence that this was the best job that could have been done on my truck. Mike also talked to me about some OE style navigation systems available for my truck, I am definately looking at getting that next from your shop. Thanks again for everything, I am so glad to have found such a great local resource for vehicle customization. Have a good weekend,
Joshua J.
Thanks to all who worked on our car so we could drive in winter weather. You took time and worked us in your busy schedule. It was so appreciated. Our car was the one with the back window down. You showed that you all cared.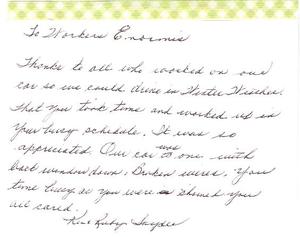 Ken and Ruby Snyder
Lou and all of his crew from Enormis are great. In my car a 2010 Ford Fusion they installed a remote starter, 20in rims, all new door speakers and a sub in the trunk, LED under car lighting, and they blacked out the front grill. When I got the car back my jaw dropped to the ground! The detail and quality of their work is AMAZING! Everything was cleanly and delicately installed with no wires showing anywhere. If you have any questions about your car the guys at Enormis will answer them with a smile on their face. I would recommend Enormis to anybody who is looking for quality work at a decent price.
Kurtis W.
Just a little Note to let you know how much I appreciated what you have done for me. Thank you so much for your kindness and the time you took to help me out.
Lucinda Doyle
I am one who takes very good care of my vehicles and I do not trust them to just anyone. I have had many accessories put on my vehicles at ENORMIS and have never regretted it for a moment. The men working there are top notch and very reliable. I will always trust my vehicles at ENORMIS and have recommended them to all my friends and family.
Marc Stevick
As a member of the City of Erie, Bureau of Police K-9 unit, I would like to take the opportunity to thank you on behalf of our command staff, my unit, and myself. The window tint jobs that you did, at a discounted rate for our cars, was a high quality and greatly appreciated job. Your professionalism, generosity, and sense of community make you stand out as one of the reasons Erie businesses are some of the best around.
Matthew W. Williams
Just wanted to let you know steps for my truck are working out great. I also gave the car dealership your website and phone number.
Mike Mazur
Just wanted to say thanks for hooking me up. It sounds awesome and hits hard. At least I think so. Turned some heads and got some compliments over the weekend. Some people didn't believe it was only 1 12".
Pat Sitter
I needed a Hands free Blue tooth device installed in our 2008 Yukon. Lou at Enormis is phenomenal, I say this because I contacted him on 23Aug for a quote, he was prompt in getting me one, plus knowledgeable in his field. I had already received a quote from another company in the area so had a general idea of the cost. Enormis not only did a clean and professional job, the very next day on 24 Aug. they were helpful, easy to work with and provided a service 2nd to none. Plus they beat the price quote I had without even knowing I had one. So, If you want a job done right, one that looks like it came from the factory, plus at a fair and reasonable price, you need to call Lou and his team. They'll treat you like they've known you forever and be happy to see and hear from you every time. I know because I called Lou and emailed him a number of times and each and every time he and his staff were happy to help. I have a keen sense in character and have a tendency to go with my gut, and it was screaming Enormis!!!!
Patricia S.
I just wanted to drop you a letter telling you how great your Customer Service is. The problem that occurred with my auto start was handled by you with the utmost courtesy, tact, and in a very timely manner. I wish there were more local companies like you that really went above and beyond on their customer satisfaction. As you may know word of mouth is the best advertising any company can have, and I will be one of your customers to sing your praises. Lou, keep doing exactly what you are doing and you will no doubt continue to be an 'ENORMIS' success! Thanks for everything!
Paula Kazmaier
I know my thank you is a little late. But thank you a bunch for fixing my CD player. You guys are extra nice!
Sarah
Thank you! I was very pleased with the service at your business. The staff is very pleasant, efficient and service is done very quickly. I will certainly tell everyone that your business is top-notch. Thanks again.
Sylvia Holland
This is a note of thanks for your support of the 2001 Misery Bay Region's "Global Shootout". The event was a huge success with 60 cars in competition. This was Misery Bay's largest autocross in recent history! We were able to raise $1100 for the Second Harvest Food Bank of Northwest PA. The Food Bank is able to purchase $17 dollars worth of food for every dollar we donated. This means our contribution will provide over $18,000 of food to the needy in our community. We couldn't have done it without your generous donation. With your help we were able to draw in larger numbers of drivers. We have plans to make next years "Global Shootout" even bigger and better. Thank you again, from Misery Bay and the Second Harvest Food Bank.
Todd J. Beddick
Misery Bay Region Autocross Chairman
I am a firm believer that many company's can take care of you one time and do a great job. But only a GREAT COMPANY with great people can take care of you over and over and act like it is no big deal to do the job well. Over the last 2 years I have had 3 cars completely done by Enormis. These vehicles had new head units complete with GPS, Bluetooth, DVD etc, plus speakers and amplifiers. All 3 were installed the way I wanted them installed. When you are anal about your vehicle as I am, it is very important to trust the people who are tearing your car apart to make your car the way you want it. I couldn't pick better people to do that for me. Last but not least when I had questions they had answers. Thanks Enormis Sincerely, Tom Carney
Tom Carney
Marty's car is awesome. The lights, sound - everything. Thank you for bringing so much happiness and excitement to Marty's life. Your dedication and generosity in making Marty's wish come try is truly appreciated by all of us. Thank you for going above and beyond for our son.
Vicki, Frank, Marty and Evan Melnichak